The #wehiketoheal@home journaling system is the result of over 5 months of curation and development. In an effort to mirror our in-person Outdoor Journal Tour experiences, we have created a home wellness kit for "women everywhere."
Listen, we know how stressful COVID-19 has been on all of us, and we are missing our group hikes something serious, so we are bringing a little bit of this community to your doorstep. The #wehiketoheal@home journaling system was created to help ease the sting of quarantine, by providing you with a fun and engaging self-care option.
Our #wehiketoheal@home boxes are customized just for you and available in three different paths.
Kindness + Compassion
Dream + Do
Courage + Adventure
(There's even a quick quiz on the to help determine which system is right for you! 😊)
Each track comes with a different journal, set of thought-full cards, candles/essential oils, and journaling prompts. This feature will help you have a unique healing experience designed just for you. The colors, scents, and prompts have been chosen to help create a personal development journey as special as you are.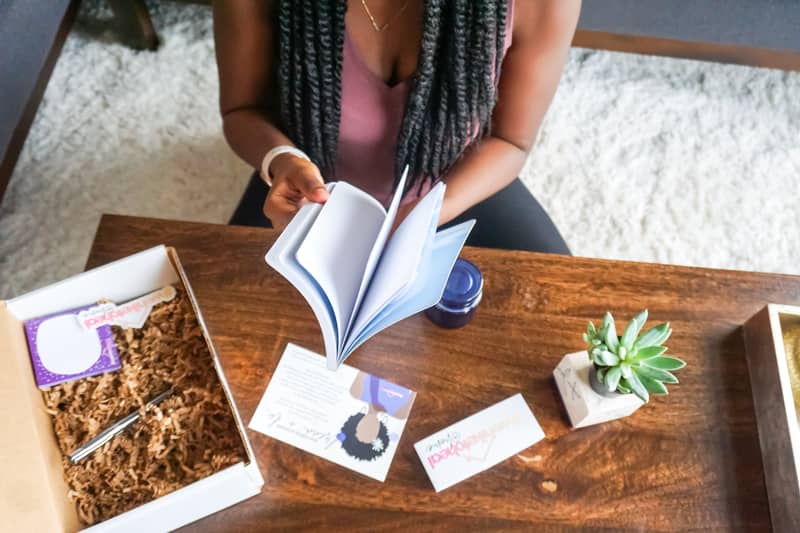 Our #wehiketoheal@home box was developed to include each of the elements present in our live experiences. In keeping with our hike, journal, mediate framework, each box includes:
Mini-succulent plant from artisan plant distributor

 

Bradford Botanical & Co.
Guided Journal
Scented Candle
Essential Oil Roll-On by

 

Creole Secret Therapeutic Aromatherapy
Engraved #wehiketoheal@home

 

Pen
Thought-Full Pop-Up Journal Cards
#wehiketoheal@home

 

Post-It Notes
Custom Mindfulness Playlist with meditations by Certified Meditation Coach

 

Erin Commendatore
#wehiketoheal@home

 

sticker
Online resources + more.....
About the options...
Kindness + Compassion
Focus: The Kindness+ Compassion box was curated for the heart-centered woman. Someone who is interested in both tuning into and cultivating more love in her life. Prompts center on kindness, generosity, and forgiveness. Choose this system if you are looking to increase your capacity to give and receive love.
Scent profile: Fun+ Fruity: Jasmine, freesia, lily of valley, and rose
Color Palette: Multi: Vibrant reds, bright yellows, and fresh pinks to encourage tenderness, charm, and joy.
Dream + Do
Focus: The Dream and Do box was created for the joyful dreamer. Someone actively working to create their life—their way. Prompts will ask you to get into the "feeling place," of your goals, and envision your perfect day. Choose this system if you want to manifest something beautiful for your life. 
Scent profile: Invigorating+ Uplifting with citrus, jasmine, and musk.
Color Palette: Rich blues and purples to encourage introspection and expression.
Courage + Adventure
Focus: The Courage + Adventure box is for the woman who is up for a challenge. Someone who is ready to ready to explore the inner and outer environment. Prompts center on confronting fear and building beautiful adventures. Choose this system, if you are ready to confront the mental and emotional barriers in your life.
Scent Profile: Fresh+ Clear: with eucalyptus and mint leaves.
Color Palette: Shades of green to encourage balance, growth, and harmony
*****************