"WANDER WITH" OUTDOOR GRANT PROGRAM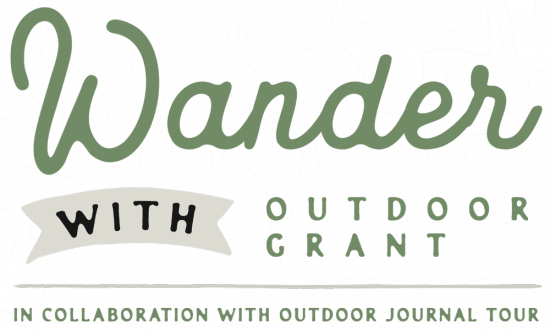 ABOUT THE "WANDER WITH" OUTDOOR GRANT PROGRAM
The "Wander With," partnership program is the latest community initiative by Wander North Georgia. In an effort to decrease the racial and cultural inequities present for the BIPOC outdoor community, WNG has created a grant program for those "doing the work," to diversify outdoor spaces. The $2,500 grant is open to BIPOC owned/operated organizations with an outdoor focus and majority BIPOC constituency.
More than just a grant however, WNG is seeking a community partner with whom they can develop a significant working relationship. WNG is both willing and interested in facilitating in-person touch points, joint events, in-kind sponsorships and other partnership activities with the grantee. The Outdoor Journal is proud to be secondary sponsor of the grant-providing both funds and services to support it.
The application criteria are below. It is our hope that his grant will help alleviate some small portion of the financial burden experienced by BIPOC outdoor organizations. Please encourage your friends to apply.
GRANT CRITERIA:
Open to all BIPOC owned/operated, outdoor focused organizations in the state of Georgia. 501(c3) status is encouraged but not required.
Eligible applicants must:
Have an outdoor focused mission/program structure. Meaning 50-75% of all programing must be allocated to outdoor activity, conservation, stewardship, exposure, education or other adjacent categories.
Be BIPOC owned/operated. 51% of the owners of the organization must identify as Black, Indigenous or a person of color.
Serve a predominately BIPOC demographic. The intention of this grant is to provide economic support to organizations that have a primary constituency of people who identify as BIPOC. The goal is to support diversity, equity and inclusion in outdoor spaces.
Be able to demonstrate an immediate need for funds in the support a specific program or activity. For example: Gear for a BIPOC campout, program materials for a retreat, support for an outdoor outreach program etc.
Be willing to commit to a 6-month engagement with Wander North Georgia. Organizations must be willing to form a partnership with WNG designed to enhance both organization's mission. The details of said engagement can be determined after grant award by both parties.
Should have a total operating budget of $100k or less. This grant is designed to help boost the program and outreach efforts of organizations that may not be eligible for traditional funding. Because of that, we want to be sure that we are supporting organizations with the greatest need.
Agree to submit a mid-term and final grant report.